mellonhead wrote:I have a friend who has a good amount of property in Indiana (Valparaiso area). He just had what he thinks to be a bunch of chanterelle mushrooms pop up in his back yard, but he needs someone who can give them a positive ID. Does anyone know someone who's lives in that area who can help?
Octarine wrote:Post pics! Especially of the underside of the mushroom, how they connect and their colour, etc will go far to eliminate most non cantharius.
I'm about a month late responding here, but a good friend traded me a pretty nice little stash of chanterelles picked about an hour inland from where I am and I thought I'd post a few pics.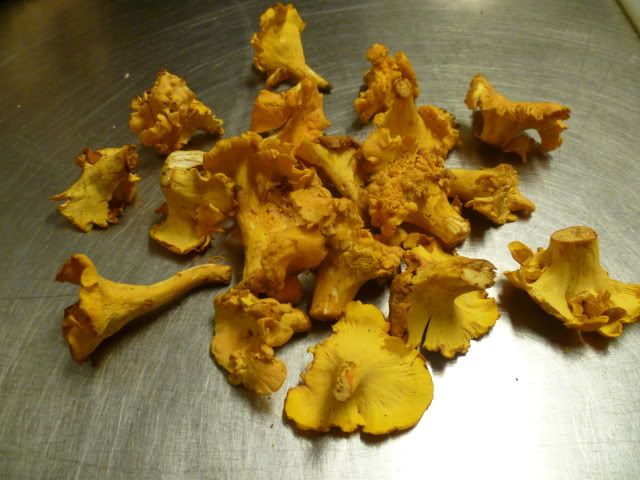 Pretty!
So, as far as a positive ID- note the strong golden color, concave, depressed centered cap, and frilly cap margin.
The gills are decurrent with the stem, meaning that they seamlessly continue from the stem. Other cap and stem mushrooms exhibit a demarcated separation between the cap and stem.
These were delicious, first simply sauteed with butter and eaten on home baked bread and then tossed with other wild mushrooms on a simple pizza.
I have never found chanterelles, to my dismay, in my area. I did happen to find a small cluster of crimson- colored cinnabar chanterelles last week though, which are teensy tiny and delicious, though my yield was pretty insignificant.