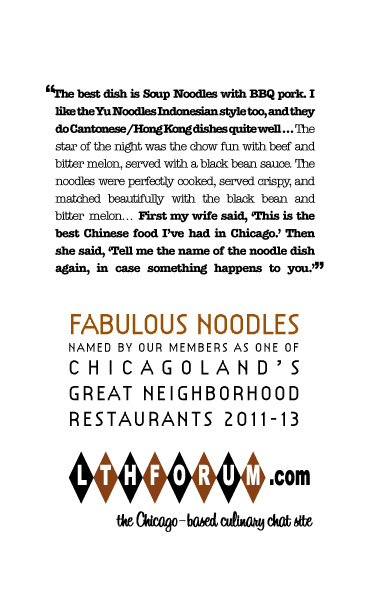 Over 10 years, but not sure exactly how long.
Over 300 meals I have eaten there.
Over 100 different people have dined there with me (and almost everyone liked it)
I really wish I could remember how and when I found it - I think it may have reading the telephone book, ala Rene G, which lead me there.
From the first visit it was always about the noodles, and particularly the soup noodles. The soup is a little non-traditional, richer, meatier than any other I have sampled. Combined with dumplings, bbq pork, duck, or won ton, it makes a simple, but rich and satisfying meal.
It always starts with the noodles in their many shapes and preparations. But they make so many other things well, from pretty darned good egg rolls (forgive me, but they are a guilty pleasure at times), to crispy chicken, salt and pepper sea food (shrimp, squid, or soft shell crab most often), and much more. Plus they are really nice people who make the Chinese menu readily available if you ask, and will guide you through it willingly, tho with warnings (Gwiv was sure he wanted bitter melon, but Sunny needed a lot of reassurance).
One sour note - I generally avoid their Szechuan offerings. Offered, it seems, solely to please those who insist upon them. But done without the care of the Cantonese dishes. The results are uninspiring for me.
Great variety, great prices, dedication to quality, helpful and nice owners in a simple and comfy little place. Look it up - in my book Fabulous Noodles is the definition of a Great Neighborhood Restaurant.
Here are a couple of other threads on Fabulous Noodles
http://www.lthforum.com/bb/viewtopic.php?p=7529#7529
http://www.lthforum.com/bb/viewtopic.php?p=21111#21111
Fabulous Noodles
4663 Old Tavern Rd
Lisle
630-305-8868
It made me happy to write that, just thinking about the happiness and satisfaction FN has brought me over the years. Maybe that is a form of greatness, too.