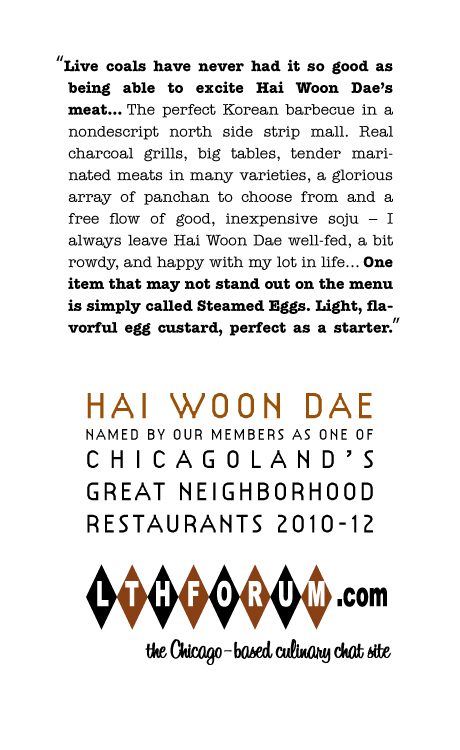 LTHForum Great Neighborhood Restaurant Award Renewals, Announced May 3, 2010
Of the many restaurant awards handed out in Chicago, only one represents the heartfelt opinions of a broad base of ordinary food enthusiasts spending their own money on the food they truly love. That's the LTHForum Great Neighborhood Restaurant designation, nominated and selected by the members of the popular Chicago-based culinary chat site. Its members run the gamut from four-star chefs to hot dog stand proprietors, lawyers, writers, musicians, college students and everything in between, all united by a love of food-- and a willingness to share their finds on the internet.
LTHForum is pleased to announce that 46 restaurants last awarded the Great Neighborhood Restaurant designation in 2008 have been recertified for the award, following a lengthy period of trial, discussion and careful evaluation-- to make sure the places chosen still have their magic that captivated LTHForum posters in the first place. Each restaurant will receive a certificate similar to the one shown above, highlighting some of what makes it special-- and in many cases, recommending specific dishes to try.
Why Great Neighborhood Restaurant and Resource
Chicago is a city of great neighborhoods, made distinctive by history, ethnic mix, and vibrant street life and culture. The Great Neighborhood Restaurant awards honor restaurants all over the Chicagoland area which contribute to their neighborhoods' and the city's character by offering outstanding food, an authentic experience of their ethnic culture, and/or a welcoming (or in some cases, belovedly cranky) atmosphere for guests. Many of these are not merely great places to eat but true cross-cultural meeting places, where power brokers and city workers, cops and perps can bump elbows or trays while enjoying honest, handmade food.
Restaurants and Resources are nominated by registered members of LTHForum.com, the Chicago-based culinary chat site, and ratified by a committee of board members, based on the degree of discussion and community-wide enthusiasm evidenced on the site. For the renewal process, this meant that each restaurant must either have had ongoing favorable discussion since it last earned the designation in 2008, or members had to try it again and report back to ensure that the restaurant had retained its previous level of quality and distinction.
Click on each restaurant's name to read the nominating thread for more details.
Go here for a handy pocket guide to the 120+ current LTHForum Great Neighborhood Restaurants.
LTHForum Great Neighborhood Restaurant Award renewals for 2010-12
a tavola
-- Like eating at a friend's, if your friend had a quiet West Town storefront and was a great Italian cook. Don't miss the gnocchi.
Al's Deli
-- There is beauty to a simple sandwich, made right, as the brothers who run this Evanston institution clearly understand. Try the Brie sandwich and be sure to save room for a cookie.
Avec
-- Offering small plates and wine at communal tables in the west Loop. It does not hurt to have one of Chicago's best chefs helping out, either. Probably more pan-Mediterranean than Spanish, but just eat, drink, and don't worry.
Birrieria Reyes de Ocotlán
-- A one dish restaurant, but what a dish-- birria, piquantly roasted goat, served with a simple squeeze of lime or salsa.
Brown Sack
-- Located between Logan Square and Humboldt Park, Brown Sack welcomes you home with fresh food made to order and a warm reception. Soups and sandwiches, some old standards and some more adventurous, take center stage.
Burt's Place
-- A pizza master who started several of the area's best-known spots now holds court and serves great deep-dish in this homey little spot hidden on a side street in Morton Grove.
Cajun Connection
-- It may be a day trip from Chicago to Utica and nearby Starved Rock State Park, but you can be sure you will not go hungry. Great cajun classics and a chance to admire a master in at the deep fryer.
Calumet Fisheries
-- One of the last shrimp huts of its kind, serving up addictive smoked and fried shrimp and fish in the shadow of the Skyway and the steel mills.
Captain Porky's
-- Another day trip to a state park, Illinois Beach in Zion this time, is best capped with a visit to this little place with the big servings. Great smoked and fried foods.
La Casa de Samuel
-- Sitdown Little Village Mexican restaurant (with a mariachi feel) offering fine handmade tortillas and some unusual specialties like venison.
Cemitas Puebla
-- Soccer-themed Humboldt Park stand specializing in freshly-made
cemitas
-- Mexican sandwiches with a smoky blast of chipotle heat. (Formerly Taqueria Puebla.)
Chaihanna
-- The pioneer for Uzbeki food in Chicago, this bright and friendly restaurant in Buffalo Grove features pickled vegetables and watermelon, grilled meats and more.
Double Li
-- Basic Chinatown storefront specializes in food that will kick you in the pants, in the best way. Mainly Szechwan, and the best stuff is very complex and very spicy.
The Elephant
-- The far northwest side's first Thai restaurant offers bright, freshly-flavored versions of Thai classics.
Gene's & Jude's
-- Ultra-minimalist hot dog stand in River Grove serving classic Chicago dogs and fresh-cut fries.
Habana Libre
-- West Town Cuban spot offers great food and drink, day or night.
Hai Woon Dae
-- Authentic-feeling, popular Korean BBQ spot where you can sit at a table or on mats to grill your own meat over charcoal.
Honey 1 BBQ
-- Terrific, authentically wood-smoked barbecue ribs, rib tips and hot links, transplanted from the west side to Bucktown.
Hopleaf
-- Andersonville fixture packing them in for a Belgian-focused beer list and hearty European bar food like mussels and frites.
Hot Doug's
-- Wildly innovative Roscoe Village "encased meats emporium" serving exotic sausages and duck fat fries.
Jimmy's Red Hots
-- For many, the classic Chicago Hot Dog is an object of reverence, even worship. On the far west side, Jimmy's is a temple for those faithful. We never argue about where to find the best dot dog, lest blood be spilled, but Jimmy's is a great hot dog and a Chicago classic.
Johnnie's Beef (Elmwood Park & Arlington Heights locations)
-- Italian beef and sausage fans line up all day long at this legendary spot for the quintessential Chicago specialty.
Katy's Dumpling House (Westmont location only)
-- Despite the name, handmade noodles are the real star attraction at this tiny spot in a remarkably diverse ethnic strip mall.
Marie's Pizza
-- Ageless bar and restaurant serving great thin crust pizza on the northwest side. Eat it hot and fresh!
Maxwell Street Market
-- A great selection of Mexican street food and all the tube socks you want, every Sunday just south of the Loop.
Mekato's Columbian Bakery and Cafe
-- Crisp, cheesy, light bunuelos are the main draw for this north side spot, but the consistent high quality makes it worthwhile to try everything.
Mixteco Grill
-- Inventive, upscale Mexican food in north Lakeview.
Moon's Sandwich Shop
-- A dingy exterior on a changing block on the near west side does not hint of the timeless mastery of the grill work being done inside. Hearty, delicious breakfasts and lunches are the specialty.
New York Bagel & Bialy
-- Go to Lincolnwood, pick up some bagels and cream cheese, 24/7. Enjoy!
Nuevo Leon
-- Simple, delicious
norteño
Mexican food at a family-friendly, consistently popular Pilsen institution.
Papa's Cache Sabroso
-- Humboldt Park storefront is a taste of Puerto Rico, from the paintings on the walls to the perfect roast chicken with garlic, and the yuca and all the other fixings.
Poochie's
-- Come for the hot dogs and hamburgers, but stay for the fried salami sandwich. A Skokie classic still going strong, proving every day that fast food can be great food.
Prairie Grass Cafe
-- Head up to Northbrook for a "casual meal in the kitchen of one of America's best chefs." Great ingredients prepared to highlight their flavor and quality. Simply delicious.
La Quebrada (Aurora, Cicero and S. California locations only)
-- Family of south and southwest side Mexican restaurants excelling at all the standards, including perhaps the best tortillas in town.
Renga-Tei
-- Japanese comfort food and friendly service draws a homey, corner-coffee-shop style crowd in Lincolnwood.
San Soo Gap San
-- Almost-24-hour Korean barbecue spot has stern owners who probably don't quite know what to make of the late-night hipsters scarfing down delicious Korean grilled meats and soups.
Scooter's
-- Nothing says summer in Roscoe Village like the seasonal opening of this happy stand serving up creamy custard in the tradition of legendary spots like Kopp's in Milwaukee or Ted Drewes in St. Louis.
Semiramis
-- Roast chicken, shawerma and other middle eastern dishes at a place more upscale than most on the Kedzie middle eastern strip.
Smak Tak
-- This Polish gem in Jefferson Park is able to stand out in a city full of Polish food by paying attention to what is truly important - crispy potato pancakes, fluffy pierogi and pork cutlets prepared the way your doting grandmother should have done in a perfect world.
Spacca Napoli
-- Owner Jonathan Goldsmith studied pizza-making in Italy and imported a massive wood-burning oven (and a pizza chef) to make the best and most authentic Neapolitan-style pizzas Chicago has ever seen.
Spring World
-- Yunnanese and Szechwan delights at great prices in the Chinatown Mall. Lots to explore.
Sticky Rice
-- Chicago's first Thai restaurant devoted to Northern (Isaan) Thai cooking offers a wide range of pungent dishes (only a few of which involve bugs).
Sunshine Cafe
-- Homey Japanese-American diner welcomes a highly diverse Andersonville crowd for non-sushi Japanese comfort food.
Sweets and Savories
-- Unpretentious but impressive Lincoln Park bistro offering innovative cuisine at very reasonable prices.
Top Notch Beef Burgers
-- If you fondly remember the classic hamburger of the 50's, served with fries and a milk shake, these south side spots in Beverly and Oak Lawn are for you. Nothing nouveau or overblown here, no way.
Tre Kronor
-- Great breakfasts and other homey foods at a sunny, friendly west Andersonville Swedish restaurant.
La Unica
-- Make your way through this Rogers Park grocery and you'll find a lunch counter in back where Cuban-Americans of all ages enjoy authentic cafe de cubano, Cuban sandwiches and more.
The Violet Hour
-- More than a bar, this near north side spot features delicious and creative concoctions sure to make an hour or three pass enjoyably.
Vito & Nick's
-- A south side institution and paragon of the Chicago "cracker crust" pizza style.
Many thanks to the GNR Committee for all their excellent work, particularly, but in no particular order, MHays, Ramon, SteveZ, Santander, and Suburban Ronnie. Also thanks to David Hammond, Cathy2, and G Wiv for their support and invaluable assistance, and of course to all of you for eating, critiquing, posting and caring. It is a great list, and it is your list.