LTH,
Incorporated the simmer in milk/cream method with a sideways twist, Habanero jack cheese. Why would I use habanero cheese? I opened the fridge it stood up waved its arms and shouted Pick Me! Pick Me!, how could I resist? In for a penny, in for a pound, so I added serrano, crushed red pepper and garlic to my potato gratin, I am sure a Frenchman somewhere someplace was rolling over in his grave.
Ducks in a Row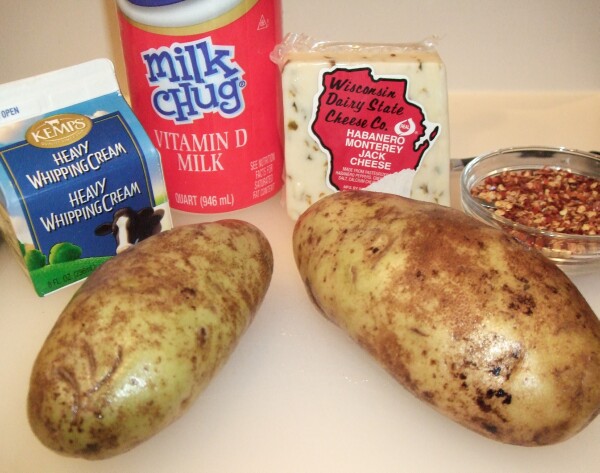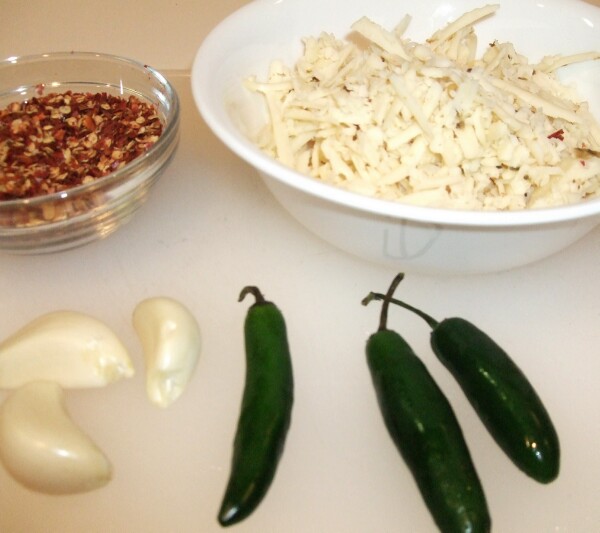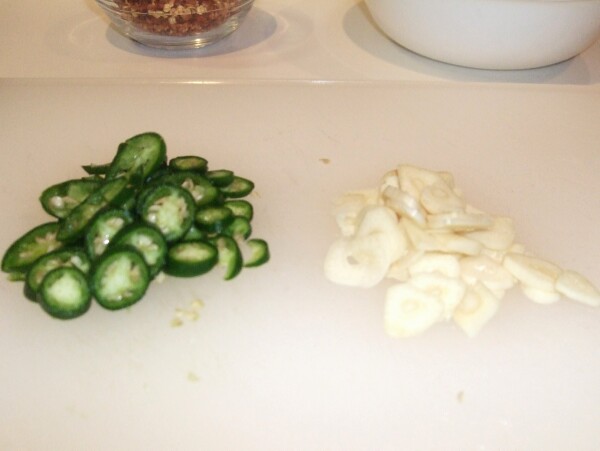 Peeled thinly sliced russets were simmered in a mix of cream, milk, salt, pepper, garlic and serrano until not-quite tender. Added to a lightly greased gratin pan and topped with shredded habanero Monterey jack cheese.
Gratin ready for oven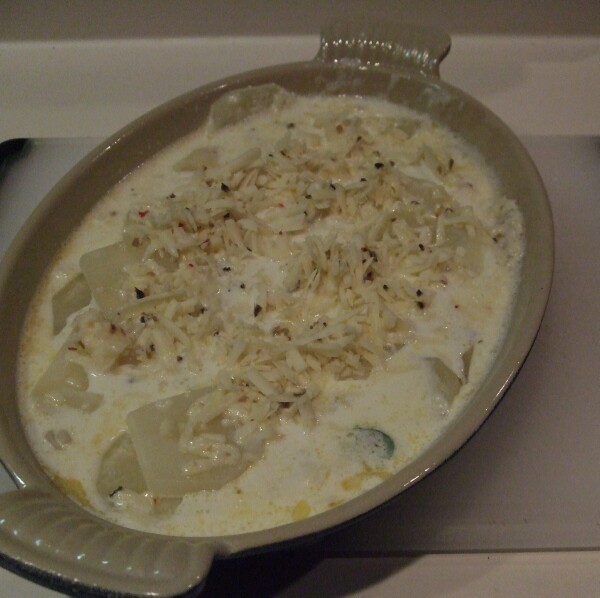 Approximately 40-minutes at 375 and then rest for 10-minutes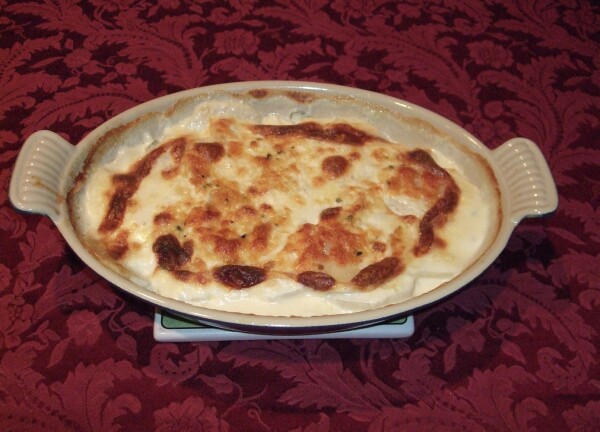 I liked the texture of this gratin, potatoes had a silky quality and the gratin itself was firmer, less runny, than in gratins past. Thanks KennyZ for the suggestion to let the gratin rest.
I made an old favorite to accompany the gratin, Corn Flake Chicken, thighs in this case, I've been eating this dish once or twice a year for decades.
Dead simple recipe, crush corn flakes, mix melted butter, egg, salt, pepper and, in this case, crushed red pepper, sliced garlic and serrano. Coat chicken, bake. My slightly smallish chicken thighs took 45-minutes at 375 to crispy corn flake juicy chicken goodness.
Crushed corn flakes, melted butter, eggs, garlic, crushed red pepper, fresh serrano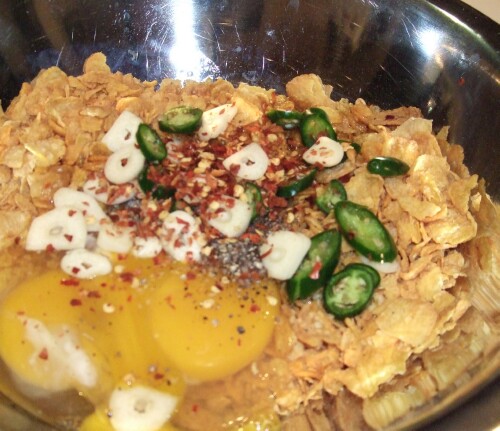 Salt and pepper chicken, sprinkle with serrano and fresh sliced garlic.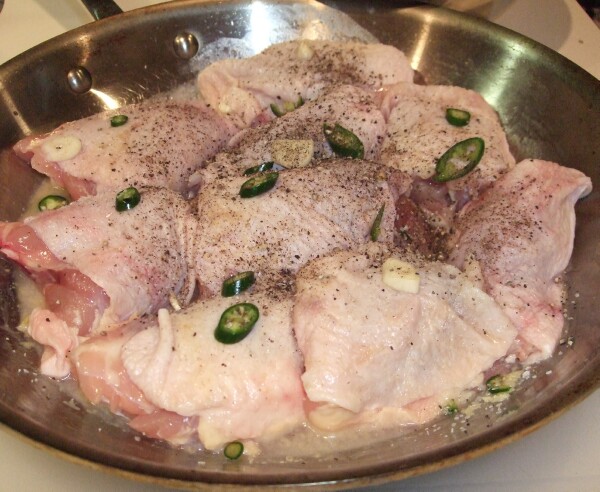 Top with cornflakes, bake at 375 for 45-minutes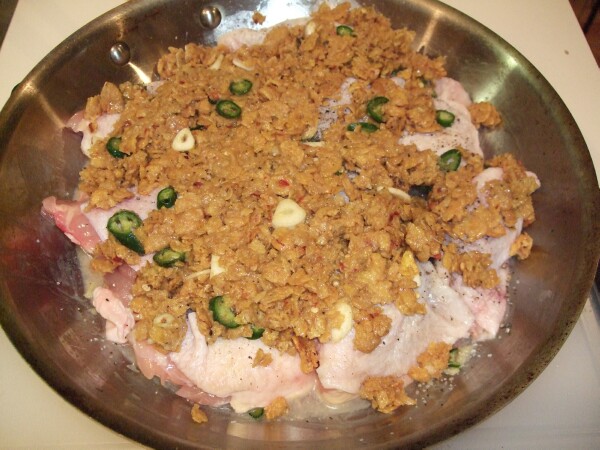 Plate, eat, enjoy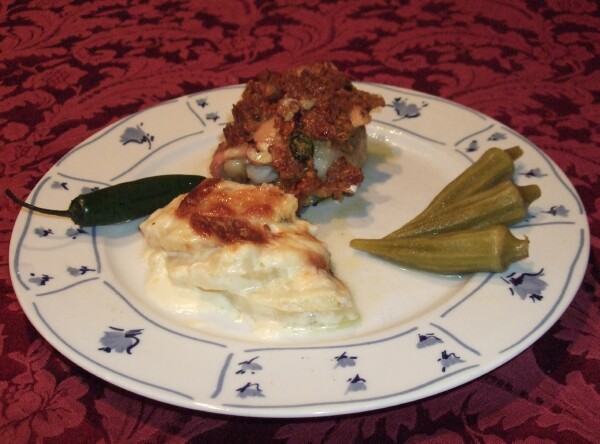 Chicken was very juicy, gratin surprisingly not all that spicy hot, though I may have lost perspective on what constitutes spicy.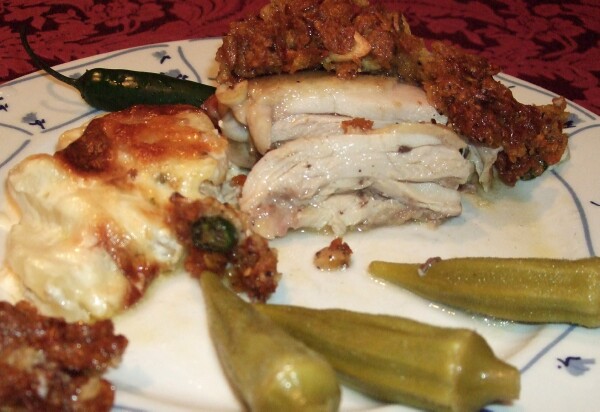 Enjoy,
Gary