İstanbul is absolutely jam-packed with quick, cheap and delicious food options.
Umur Restaurant
Pictured: Uykuluk (sweetbreads)
We got a little lost looking for this place in the Sütlüce neighborhood of İstanbul. What we discovered, however, is that all the restaurants on the waterfront specialize in sweetbreads. There were at least 5 restaurants advertising their house specialty uykuluk in large letters. Per the recommendation from Istanbul Eats we finally found Umur Restaurant. We ordered a couple plates of the grilled sweetbreads along with the traditional dark purple drink, şalgam, which is made from pickled black carrots. The sweetbreads were tender though a little under seasoned, but a terrific bargain. The restaurant is across the street from the water taxi station so it's a pleasant ride down the Golden Horn, but I don't know that I'd go too far out of my way for this particular plate of sweetbreads. The uykuluk sandwich you can get on the street was plenty good enough for me.
http://istanbuleats.com/2010/07/umur-re ... ymus-time/
Grand Bazaar
Pictured: Saç Kavurma Sandwich
One day we were looking for a quick bite to eat in the grand bazaar, but it was surprisingly hard to find something that wasn't geared towards tourists. Unfortunately the addresses provided in Istanbul Eats were essentially impossible to find since it's such a maze. Eventually we found ourselves in a part of the bazaar that sold cooking equipment and tools, so our prospects were looking better. Along the road we found a nondescript little shop specializing in saç kavurma which is small chunks of lamb cooked with tomatoes and peppers on a thin metal pan called a saç. This rendition was absolutely fantastic with seriously assertive spicing and fresh bread. The same shop offered fresh squeezed pomegranate juice which was a wonderful, sour and sweet complement to the spicy meat. All of this for the bargain price (even by Turkish standards) of 5YTL. I just wish I could find it again.
http://istanbuleats.com/2009/07/the-gra ... -the-food/
Pera Sisore
Pictured: Chef's choice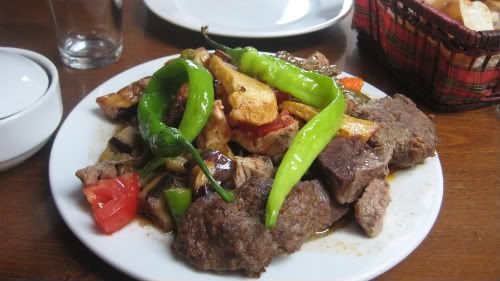 This is nice spot for a quick lunch in Beyoğlu, though I was a little disappointed by the meal. They specialize in the cuisine of the Black Sea, which is something I really don't know much about. Based on the write-up and pictures from Istanbul Eats, I'm guessing that their offerings vary quite a bit from day to day. We let the chef choose from the pretty large array of steam tray options and the plate was piled high with food. Unfortunately the meat was quite tough and the potatoes were bland and overpowering. There really weren't very many vegetable options the day we visited which seems pretty different from what we were expecting, and made the meal feel heavy and kind of clumsy. The food had a very homemade quality to it, and I'm guessing this is the kind of place that can really crush it when they're on, but sadly, this was not the case the day we visited.
http://istanbuleats.com/2009/04/pera-si ... sea-magic/
Kızılkayalar
Pictured: Islak Burger (wet burger)
I'd never heard of a wet burger before and I didn't think much of the writeup I read on Istanbul Eats about this place (apparently it was on No Reservations as well). But as luck would have it, the airport shuttle dropped us off in the middle of Taxim Square and right there, across the street, was Kızılkayalar peddling two lira wet burgers at a frantic clip. Hungry from the flight and needing to lay a base down before a night on the town, everyone in my group got one burger to tide us over. Wow. This was unlike any burger I'd ever had before. The wetness of the bun most resembled a drenched italian beef (the way I like it) with a distinct tomato-ey flavor. The meat was a seriously spiced patty of rich, squishy lamb completely unique in both texture and flavor. This place is open 24-7 and no matter the hour we saw people lining up to grab a wet burger. The one burger to tide us over quickly became two or three. This is the perfect food stop before you embark on the pinball machine that is İstiklal Caddesi.
http://www.kizilkayalar.com.tr/4.htm
http://istanbuleats.com/2009/12/istanbu ... et-burger/
Dürümzade
Turks call wraps dürüm, probably because they're made from durum wheat (I'm guessing). In the busier pedestrian areas throughout the country there are hole in the wall joints specializing in kebabs and köftes of different kinds served with your choice of white bread, pita bread or a wrap. So I guess what I'm saying is that you can get grilled meat in a wrap just about anywhere, and a lot of them are pretty damn good. Dürümzade was highly recommended on Istanbul Eats so I figured I'd visit to see what the top of the genre looks like. On the one hand everything was done correctly. The meats were well seasoned, my favorite was the chopped liver with tons of garlic and onions. The wraps were soft and the toppings (cabbage, pickles, etc) were all crunchy and fresh. Washing it down with a bottle of creamy ayran, this is as good as street food gets. On the other hand, I failed to see what made them stick out. They were a good 5-6 blocks off the main drag and were pretty empty when we got there at about 10PM. Maybe this place really gets going after the bars let out, but as far as I could tell, other places closer to the bars and clubs were doing better business at that hour. It's the type of place I'd be glad to know about when I'm looking for a bite in the area, but not something I'd walk half way across Beyoğlu to get. They were featured on No Reservations, so I'm a little curious as to what Bourdain thought the draw was.
http://istanbuleats.com/?s=durumzade
Tarihi Karaköy Balıkçısı
After all the great seafood we ate in İzmir, my friends were clamoring for more seafood when we got to İstanbul. While seafood is prevalent on menus, restaurants specializing in seafood were a little hard to find in downtown. We did, however, happen across one excellent option in the Karaköy neighborhood, just across the Golden Horn from Sultanahmet (turns out Istanbul Eats found it too, those guys are thorough!). Tarihi Karaköy Balıkçısı is a small storefront serving a quick lunch to the workers that work nearby. They seemed surprised when a group of 5 Americans walked in the door, definitely a good sign. They had 5 types of fish on the menu, so we ordered one of each and a couple bowls of the fish soup. The fish soup was somewhat similar to a chowder with big hunks of fish and potatoes in a creamy, fishy broth. It's exactly the type of thing I imagine is being served near docks all over Europe and the US. The fish was all fresh as was to be expected, served with bitter greens and lots of lemon. The one notable option was the bass cooked in parchment paper that had a flakier texture and lots of flavor imparted by the tomatoes and onions that cooked along side the fish in the pouch. This was a great stop for a quick, affordable seafood lunch in the remarkably local neighborhood between tourist central (Sultanahmet) and party central (Beyoğlu).
http://tarihikarakoybalikcisi.com/
http://istanbuleats.com/2010/11/tarihi- ... k-in-usta/
Street food around Eminönü
Pictured: Balık Ekmek
Right next to the bridge connecting Sultanahmet to Karaköy is the Eminönü boat terminal where hundreds of ferries come and go throughout the day. It's a bustling area teeming with locals catching commuter ferries and tourists catching Bosphorus tours. Under the bridge are dozens of restaurants selling what appears to be overpriced tourist fare (with exceptional views of the Golden Horn). Right in the middle of action, though, are two stands selling some of the best street food we had in İstanbul. As soon as you get close to the terminal you can hear fish sizzling on grills. Simply called balık ekmek, which translates to fish bread, the fish sandwiches sold all around Eminönü are a simple but delicious treat. The sandwich is made with grilled, fatty, salty fish (similar to mackerel, heck they could be mackerel) and topped with raw onions, tomatoes, bitter greens and a squeeze of lemon. I'm a lover of all fatty fish and this was a memorable treat I went back for a couple times. Around the corner is a stand selling Turkish doughnuts called lokma. They're simply balls of fried dough dipped in syrup. Be sure to wait for fresh ones to come out of the fryer, they decline fast. But when they're fresh, they're really the only way to get that wonderful taste of fish and onions off your breath (not that you'd want to). I wish my daily commute included a stop by such wonderful street food stands!
Karadeniz Pide Döner ve Lahmacun
Pictured: Döner Kebabı
I haven't talked much about the döner (which means spinning much like gyro in Greek) kebabı I had on the trip. Honestly, I didn't eat very much. For one, I've visited Europe a handful of times in the past couple years, and I've had a lot of good döner off the street. Also, there are so many different kinds of kebabs I wanted to try that I just couldn't justify having standard issue döner when so many interesting options were available. Lastly, when I did eat döner, I had it İskender style served with pide, yogurt and tomato sauce at sit down restaurants. All that said, I couldn't go all the way to Turkey without having some döner sandwiches off the street. In the tourist areas, practically every other storefront serves döner, and honestly, most of them look pretty bad. There are a couple things to look for when choosing a place to eat a döner sandwich off the street. Perhaps most importantly, throughput. Döner tastes best when it's constantly spinning and the meat is charred. If when you order a döner they have to turn on the machine, that's a bad sign. Also, I didn't have a single french fry on my entire one month trip to Turkey, I wasn't even offered one. However, in the tourist districts, french fries are served at nearly every restaurant. If the place is serving fries, there's a good chance you're getting substandard döner. We stopped by one of the Istanbul Eats recommended döner joints in the Beşiktaş neighborhood. As you can see from the picture above, this was early in the day, and they're expecting to sell a lot of döner sandwiches. I particularly liked that they were in no rush to shave the meat, they waited until it was nice and charred before taking the knife to it. I'm partial to kokoreç (grilled sheep organs), but it's hard to argue that a well made döner isn't a wonderful treat in it's own right.
http://istanbuleats.com/2009/10/doner-heavy-rotation/
Can Ciğer
Pictured: Edirne Ciğeri
Turks love liver. There's a saying in Turkish that translates to the corner of my liver (ciğerimin köşesi) and means my darling. Not sure if there's any relationship between this saying and the wonderful liver preparations found in Turkish cuisine, but either way, Turks love liver. And so do I. The best liver I had on the trip was at a restaurant specializing in Edirne style liver where their love for liver is famous. The liver is cut into thin slices, lightly breaded and heavily spiced then grilled to crispy perfection. It's served with raw onions and tomatoes and the mandatory tall glass of ayran (yogurt drink). Can Ciğer (pronounced jun jee-yer), in the Beşiktaş neighborhood, made a superlative rendition of this dish. The liver was at once crispy and yet moist on the inside with lots of spice. I didn't get a chance to visit the liver joints in Beyoğlu, which are probably a lot easier to visit for tourists sticking to the beaten path, but if you're anywhere nearby, this place is worth visiting.
http://istanbuleats.com/2009/08/can-cig ... er-in-you/
Marko Paşa
Pictured: Mantı being made
I really wanted to find a place that served mantı so my friends could try it. Mantı is essentially Turkish ravioli stuffed with ground meat and topped with garlic yogurt. All the Istanbul Eats recommended places were pretty far from the city center, and as it so happened a couple doors down from our hotel was a place that specialized in handmade mantı and gözleme. All day you could see an older lady rolling out dough and folding mantı one by one, so I figured it's fresh if nothing else. As it turns out, earlier in this thread, Bill recommended this place as well, so with apologies I have to say this was by far the worst meal I had in Turkey. When we entered the restaurant I noticed that the place was full of tourists. This surprised me because for the most part Beyoğlu had way more locals than tourists. Nonetheless we sat down and ordered a couple gözleme, a couple plates of mantı and a couple kebabs. The gözleme (similar to a quesadilla) was quite tough, which is mind boggling because presumably it was rolled out that day. The filling was the lowest grade sucuk and cheese that I didn't even know existed. Then came the mantı, which once again was shockingly bad. What are they putting in the dough that made is so bland and tough? It's flour, water and salt. I'd never had a bad mantı in my life until this trip. They put dried mint on top (who thought that was a good idea) and the meat was completely under seasoned and fatty, clumsily made from top to bottom. Lastly the kebabs were atrocious. Somehow the meat was overcooked and the eggplant undercooked. If you've never had undercooked eggplant, avoid it like the plague. It was tough, bitter and stringy. As we were leaving, the waiter asked me (in Turkish) where we were from. I said the US, and he said, yeah, we don't get many Turks in here. Oof.
Next up, sit down dinner places.
Last edited by
turkob
on January 13th, 2011, 5:49 pm, edited 1 time in total.