Street Food Notes
Being on my family's schedule, I couldn't hijack the whole trip for a kebab tour of southeast Berlin or a currywurst-thon (not that I could eat more than one of these in a lifetime, but more on that below). My few surgical strikes proved to be quite successful though, yielding several of my favorite bites of the trip.
My sister and brother-in-law are recently transplanted Berliners and they immediately recommended the one-two punch of
Mustafa's Gemüse Kebap
and
Curry 36
two venerable street food institutions in the Kreuzberg neighborhood.
Some fine looking dogs: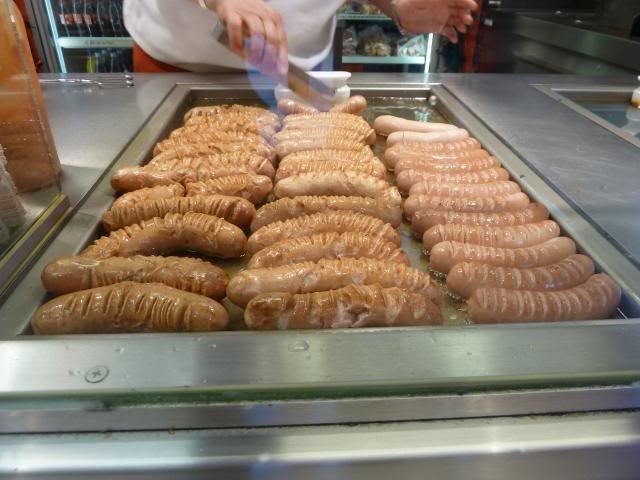 I ordered mine "mit darm" with casing, duh. Now why you would want to drown a nice sausage like that in ketchup is beyond me...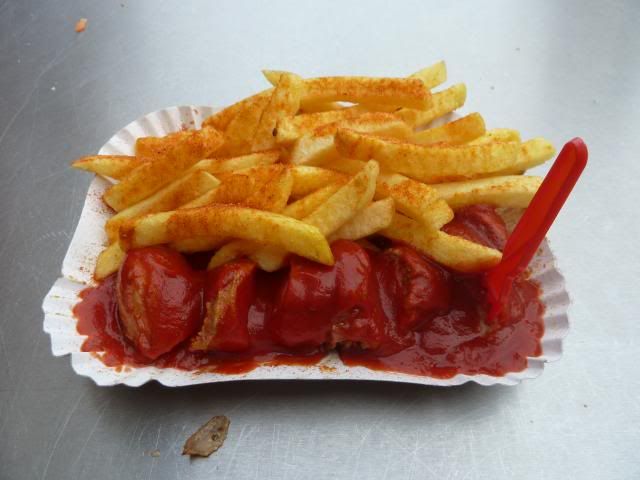 A paprika-heavy curry powder is sprinkled atop the sauced dog which I felt did not spice up the ketchup enough. I will probably eat one of these, obligatorily, when I visit my siblings in Berlin, but I will never crave this. Those crispy, spiced from-a-frozen-bag fries were pretty good dipped in the ketchup, a
proper application
for the condiment.
Fortunately, my palate was redeemed by Mustafa's doner kebap. I loved the look of this place with its amateurish mural (is that Shaq in line?!):
Mustafa's is notoriously popular and my sis warned me we could wait up to an hour. Fortunately, we arrived at 11:00 a few days before Christmas and the line was only a few people deep. The guys crafting these sandwiches really make an effort and their methodical construction of these elaborate sandwiches must be a contributing factor to the wait. "Gemüse" means vegetable, which confused me at first, leading me to believe this would be a vegetarian kebap. As you'll see below in the pic of that monstrous doner, my fears were quickly squashed. They do load these guys up with both raw salady stuff and also grilled veggies like onions, peppers, carrots, and potatoes, iirc. The toppings don't end there, next you've got several sauces and feta sprinkled on top. I simply ordered everything, so I don't recall exactly what all they put on there but there was definitely a chile sauce and something yogurty.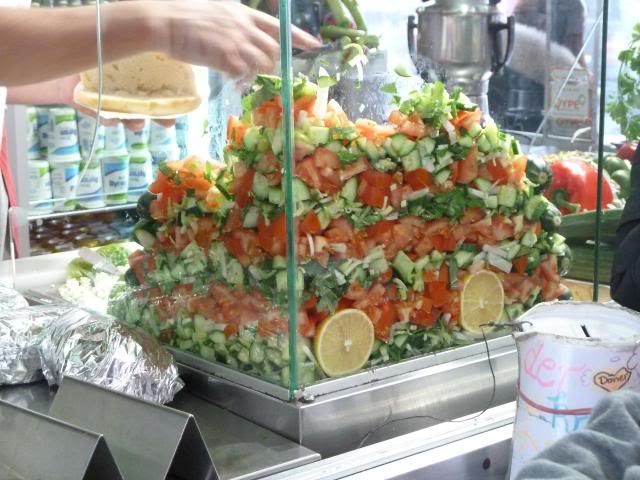 All those toppings might sound like overkill, but it really adds up to one damn tasty kebab.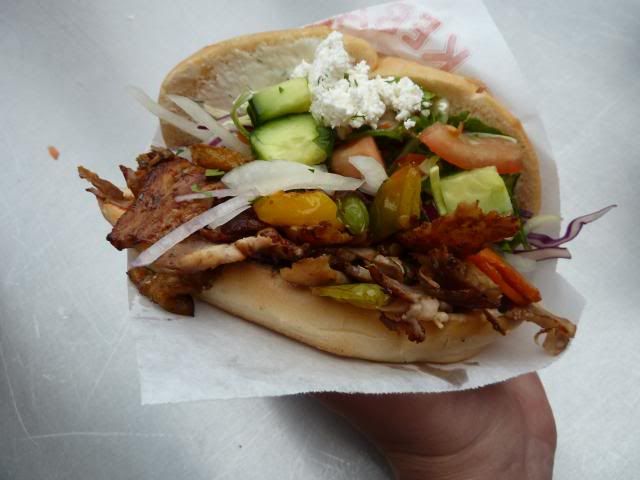 The bread was really nice, with a chewy exterior and pillowy insides. The spicing and nice caramelization really came through on the chicken doner meat as well, a mighty fine rendition. And the panoply of flavors and textures of the toppings really made for a harmonious sandwich.
After a few days of Christmas market hopping, we were ready to eat foods fresher and less porky. We headed back south, this time to the Neukölnn neighborhood which is a deep Turkish enclave that is in the midst of a gentrification by young bohemia. I'd read high praise of the kofta at
Gel Gör
.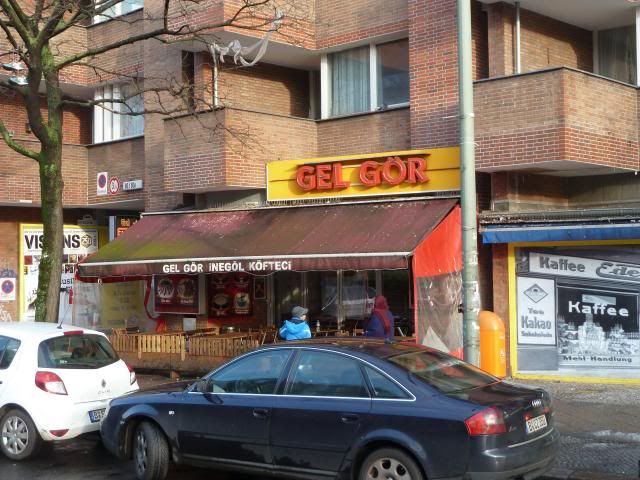 Many meats are available, offal too. The acclaimed kofta was our target.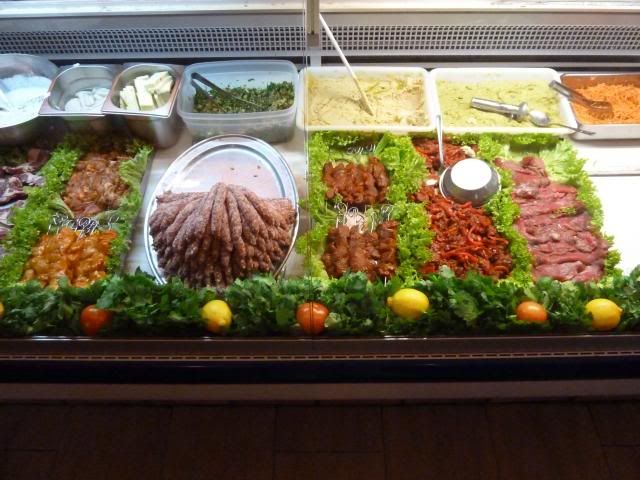 We ordered some hummus, which was not much to write home about, grainy and pasty and lacking lemon. It was scattered with small white beans, leading me to believe its base was something other than chickpea. The bread it was served with was wonderful though, with an almost flaky texture.
The kofta kebab did not disappoint.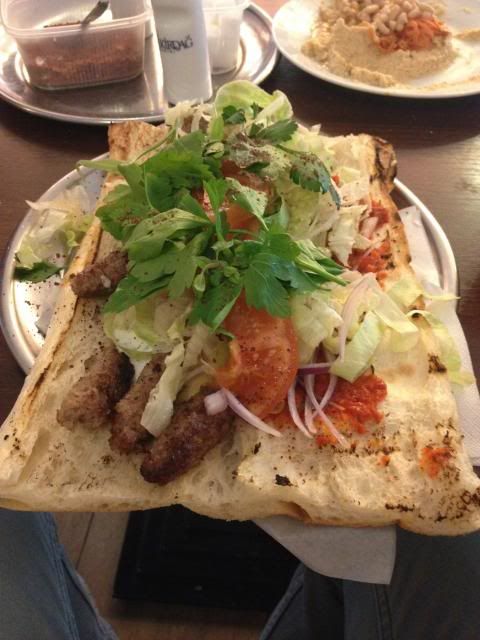 The bread, again, was the most surprisingly wonderful aspect to this sandwich, baguette-like, awesomely chewy and pleasantly light and airy. It made me think that perhaps there are deep Turkish bread traditions that I have yet to be educated on. This sandwich as a whole, while so different it may not be worth comparing to Mustafa's, was much lighter, delicate even. The meat had assertive char and garlicky bite but the supporting players were very light and fresh: judiciously sauced, plenty of salad, long sprigs of parsley and a nice dusting of sumac. A squeeze of lemon and a sprinkle of what I believe was urfa biber made for a really delightful sandwich.
We ate a few lesser kebabs around town as well, it seems like every corner has a doner spot (currywurst too and crazy multi-ethnic fast food spots). The two kebabs I covered above were truly transcendent, but even the workaday corner spots put out product that would rival much we have here in Chicago. I look forward to sampling more Turkish chow next time I'm in town!
Curry 36
Mehringdamm 36, 10961 Berlin, Germany
http://www.curry36.de
Mustafa's Gemüse Kebap
Mehringdamm 32, 10961 Berlin, Germany
http://www.mustafas.de
Gel Gör Inegöl Köfteci
Kottbusser Damm 80, 10967 Berlin, Germany