I popped in on Sunday and got a lackluster-ish batch.
It's still quite decent, mind you.
If it was leftover from what you got on Saturday, you might even get a better batch next time you try it. The other one you got looks like the standard roasted salsa which, is my secondary go to, but sometimes it's outstanding. Their tomatillo verde is surprisingly, my favorite of the style I've had anywhere. Usually just not a fan, but theirs pops. I honestly had never even tried it until my brother in law went in a, "I want to try everything in this store" kid in a candy shop mode when I took him there for the first time.
Also on Sunday, I went when it was pretty slow, so I chatted up the guy behind the hot counter, who, if I were to guess, was the owner. He told me that the red avocado salsa was avocado and chile arbol, and it's very spicy. He started chatting me up because everyone freaks out when they hear my spanglish, and they ask where I'm from, how did I learn so well, I MUST be from Columbia, etc. I asked the lady at the front register if they have the tortas every Sat, and she said, no - "he" only makes them when he feels like it, and she looked the way of the guy at the hot counter I was talking to, BUT, she also said, "He will make them if you call or stop in on Friday and ask, no problem."
If you ever wanna try them, just say the word. I have no issue popping in and asking, and maybe there would be some left for you or whatever, or I could order more for you, specifically. Also, they were technically pambazos. Chorizo and potato sandwiches easy drenched in a mild/spicy tomato sauce. They weren't totally drenched, like messy, but I guess that could easily vary. IIRC, they were like 2 bucks each, not STUFFED, I bet I could eat 3 of em. They were darned simple, but darned good.
Sunday's haul: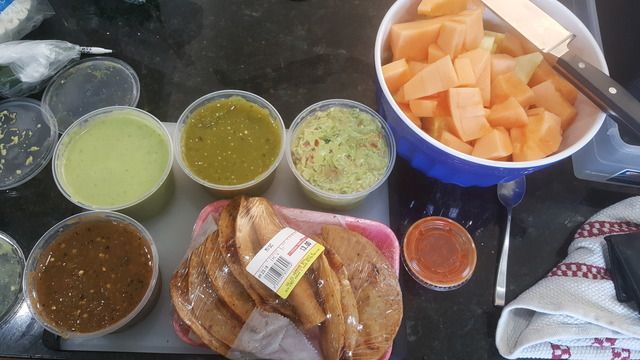 50 cent fried potato tacos were greasily awesome.
Guac was a little on the lackluster side, too.
Their stuff is usually on point. I know it'll be better next time.
That cantaloupe, was courtesy of Familia, and had NO business being as sweet as it was in April. It was eaten in about 10 minutes. That was my 79c find of the day. Probably going back tomorrow to buy two more.
We cannot be friends if you do not know the difference between Mayo and Miracle Whip.